Description
Currect® is a cream with a powerful regenerating and healing effect, it has an antibacterial activity against gram-positive & gram-negative organisms. It has a unique ability for penetration to the focus of infection.
Usage of Currect® :
Prevention of progressive necrosis of burn tissue
Reduction of water evaporation from the burn wound surface
Control of pain and infection
Decrease in scar formation
Promote epithelial repair
Inhibits bacterial growth
Analgesic effect
Improved scars formation
Microbiology of infection:
The appearance of microbes in the wound follows a predictable pattern :

Initially, but only transiently, the wound is sterile
Within 48h of injury, gram-positive bacteria that are normally found in the skin such as Staphylococcus aureus, Corynebacterium, and Streptococcus species colonize the wound surface.
5-7 days after pots-burn, other organisms originating from the patient's normal gastrointestinal or respiratory flora, or the hospital environment, appear and begin to dominate. these are usually gram-negative organisms such as Pseudomonas aeruginosa. Enterobacter species Proteus, and Escherichia coli.
Later, yeasts and fungi may appear, which is always an ominous sign connected with heightened mortality.
List of the microbial species responsible for invasive wound infection: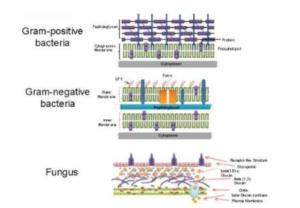 Gram-positive bacteria:
Staphylococcus aureus
Methicillin-resistant S. aureus
Coagulase-negative staphylococci
Vancomycin-resistant enterococci
Gram-negative bacteria:
Pseudomonas aeruginosa
Escherichia coli
Klebsiella pneumonia
Serratia marcescens
Enterobacter sp.
Proteus sp.
Acinetobacter sp.
Bacteroides sp.
Fungi:
Candida sp.
Aspergillus sp.
Fusarium sp.
Colonization and infection: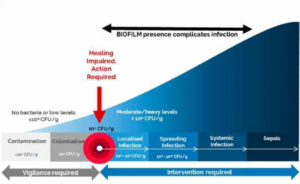 Superficial wounds have a preserved blood supply and perfusion through much of the dermis, they typically will become colonized but less frequently develop invasive wound infections.
Deeper wounds are covered by an avascular layer of moist and protein-rich dead skin (the eschar), which fosters bacterial proliferation and invasion, leading to wound infection.
Currect® is the ideal topical antimicrobial cream for wounds:
Currect® has a broad spectrum of coverage and would not stimulate the development of resistance.
it would be able to penetrate well into the wound eschar while being painless to apply and requiring infrequent dressing changes or reapplication.
Currect® would not inhibit wound healing and would be non-absorbable and free of zero adverse effects,
Application:
Clean the wound with sterile saline solution (it is a non-toxic, isotonic solution that does not damage the healing tissues).
Apply Currect® cream on a sterile gauze.
Place the gauze on the affected area to cover the entire wound.
Keep the dressing for 48 hours.
This application should be repeated every two days until the full recovery of the wound.
Ingredients:
Ethylhexylglycerin: It has humectant properties leading to improved skin hydration without a ticky feel.
Copper Gluconate: Copper is vital for the appropriate functioning of almost all tissues in the human body. In the skin, copper is involved in collagen synthesis, wound healing, and skin regeneration.
Zinc Oxide: Has been found to have natural antiseptic and antibacterial abilities. Other benefits include healing epidermal wounds, burns, rashes, skin oiliness, infections, and acne.
Sorbic Acid: is used to prevent the growth of bacteria, mold, and fungi.
Aloe Barbadensis Leaf Juice: It's an anti-inflammatory and effective skin moisturizer.
Calendula Officinalis Flower Extract: has antifungal, anti-inflammatory, and antibacterial properties that might make it useful in healing wounds, and soothing eczema.
Centella Asiatica Extract: can increase hydration on the skin's surface and reduce water loss. It also helps protect your skin against oxidative stress from free radicals and helps restore and maintain your skin's natural barrier.
Brassica Oleraceca Ita Oil: Broccoli seed oil is high in skin-soothing fatty acids like omega 6 and 9. These nutrients deliver intense hydration without clogging pores and also calm irritated stressed skin. Furthermore, broccoli seed oil is quickly and easily absorbed and works to lock in moisture to keep the skin hydrated and resilient.
Curcuma Longa Root Extract: protects skin by quenching free radicals and reducing inflammation through nuclear factor-KB inhibitation. Curcumin treatment also reduced wound-healing time, improved collagen deposition, and increased fibroblast and vascular density in wounds thereby enhancing both normal and impaired wound healing.